4 Door Wardrobe Design with external drawers and mirrors | Misty Dreams and Misty Dreams White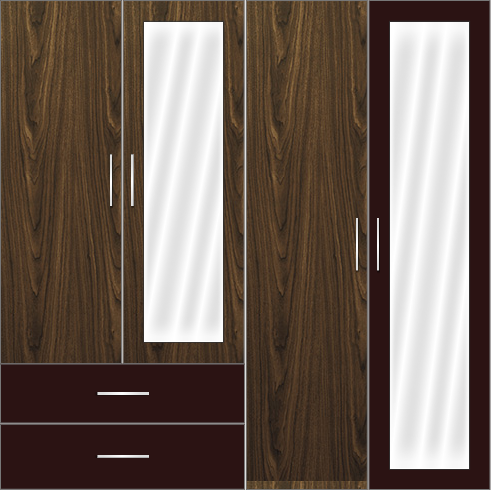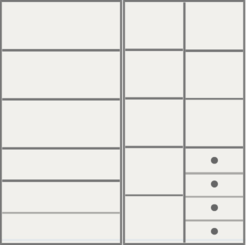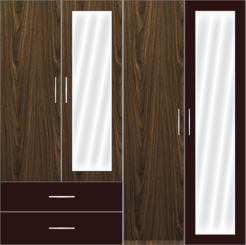 4 Door Wardrobe Design with external drawers and mirrors | Misty Dreams and Misty Dreams White
Best Price in Chennai!
1 day assembly
5 Year Warranty
Thanks for your enquiry
Our team will get in contact you shortly.
For any queries, reach us @ 9788-99-9996
Description
Wood and dark make it spark. The evergreen combination of wood and black goes back a long time. The black has been given in minimal level to make sure the wardrobes don't look too dark. This can be added to any room to make it inviting, may it be a small one or a complement the one in the master bedroom. Can be set against a room with one-sided dark wall to stand out. The presence of a full mirror on the right end makes it a perfect fit for a niche with a right side wall.
Interior:
The right wardrobe has a lot of partitions along with 4 inner pullouts to store private things and locks can be embedded with a moderate increase in the price. The partitions can be shuffled or removed to create a space of our own. The middle vertical partition is fixed and cannot be removed. The left wardrobe has only full removable partitions that are typically of size 3ft. This will change accroding to the space available in the room.
Specification
| | |
| --- | --- |
| Ply Brand | Kitply |
| Ply Thickness Carcass | 18mm |
| Ply Thickness Shutter | 15mm |
| Laminate Brand Shutter | Merino |
| Laminate Thickness Carcass | 0.6mm |
| Laminate Thickness Door | 1.0mm |
| Hinges Brand | Haffele |
| Hinges Soft Closing | Yes |
| Edge Banding Thickness Carcass | 1mm |
| Edge Banding Thickness Shutter | 0.6mm |
| Postforming | No |
| Finish | Matte/sf |
Frequenty Asked Questions
Why should I choose Zenterior?
At Zenterior, we strive to redefine the way the interiors are done. Everything from procurement, manufacturing and assembly directions are automated that will result in a low margin of error and high-quality finish. Because of the automation, the kitchen can be completed in one day, and a 3 bhk home can be completed in 3-4 days.
How long does it take to deliver my home interiors and modular kitchen with Zenterior?
With our automated procurement and manufacturing instructions, we deliver a lot faster than any other vendors. An 80 to 100 sqft kitchen takes only a day to complete. A 3bhk home will be completed in 3-4 days.
Do you charge anything for the design?
The design comes as a compliment to the interior work. No charges.
Are there any charges other than the quoted price?
No, there are not any additional charges. All the items including the granite, CNC, kitchen baskets and other accessories are part of the final quotation. So there will not be any increase in charges.
Can I buy the materials for the interior work myself?
Yes, of course. When the quotation is given to you, it clearly specifies a list of items that are required to complete the work. Should you wish to buy the materials yourself, you can place the order at any outlet of your choice and get it delivered at the Zenterior partner factory.
Can I change my requirement and choice of colors after I place the order?
Before you place the order all the requirements are fed to the system, and accordingly, the quote is generated. As you may know, Zenterior does not charge on sqft basis but based on the actual material that it takes to build the unit. We can change the requirements and the colors before the materials for the order are placed. Once ordered, we do not take any request for change.
What if the products are damaged on delivery?
Zenterior only wants the best for you and that is why we make sure that you receive your orders in good shape. However, should there be any instance where you receive any damaged item, it must be immediately flagged by calling us at +91 9788 999 996 or mail us at hello@zenterior.in. Zenterior will honor furniture returns/exchanges for items that have not undergone any physical abuse for the customer side.
Will Zenterior do false ceiling for my home?
Zenterior does not have its own false ceiling team. However, we can hook you up with the best teams in place to get it done. You can directly deal with the team in terms of requirement and the pricing.
Does Zenterior do Renovation?
Yes, we do the modular part of the renovation. The civil, plumbing and electrical part of the plumbing will be outsourced by Zenterior. You will be hooked up with the contractors and they will deal directly with you in terms of the work, timeline and the budget.
Do you offer loose furniture like sofa, dining table?
No, we offer only modular, fitted furniture.